Medical Treatments & Herbal Supplements that has Helped Others




I occasionally will get an email from someone who report they have found something that has helped decrease their symptoms. Since many sound good I've decided to add them as an option to explore. I occasionally come across information on medical sites where doctors claim they have a proven treatment that helps people with CFIDS in their pratice so I'll add them here as well.


However I am not a medical doctor nor do I personally recommend or guarantee the effectiveness of any of these products. I also do strongly request you to print the information on any product that you are interested in trying and discuss it with your doctor before trying. Some ingredients in herbal supplements may adversely effect your health either due to interaction with your current medication(s) or allergic reaction. Also some ingredients may "build up" in your body over time then begin to become toxic. Therefore it is critical to discuss these with your doctor.





Mickel Reverse Therapy Dr. Mickel emailed me about his site. His concepts sounds promising that it may help some folks with FM & CFS. I've included part of his email.
"My name is Dr David Mickel and I am director of Mickel Reverse Therapy Ltd. This is a company that specialises in the treatment of people with Chronic Fatigue Syndrome, ME and Fibromyalgia. We also offer training of therapists in this therapy.

The results of our work have been astounding over the last 2 years and we have a complete return to health rate of 86% with a 14% drop-out rate involving over 170 sufferers. We now have more than 20 therapists throughout the UK, Ireland and one in Canada with plans to train more nationally and internationally over the coming year to meet demand.
Best Wishes
Dr David Mickel MB ChB MRCGP
Director
Mickel Reverse Therapy Ltd"

"Reverse therapy is a body-mind healing process. This means that we work with physical symptoms in order to clear the messages that are linked to them. Unlike psychotherapy, we do not investigate thoughts in order to treat the mind. In contrast to most forms of physical therapy we do not try to remove symptoms through massage, diet or drugs that merely shoot the messenger. The key to our work is to treat the body-mind as a whole and to satisfy the body-mind's need for a harmonious relationship with the environment.
How are these conditions produced?
Reverse Therapy assumes that the body-mind is supremely intelligent. This intelligence seeks to protect the individual from unhealthy interactions with the environment. It uses symptoms, often experienced as physical illness, to communicate different needs to the individual."

Providence "Providence was formed to research and distribute innovative technologies applicable to the medical industry. Providence has formed a strategic alliance with Innovative Medical Group (IMG) to enhance patient care through new technologies. Our goal is to provide you with the most cost effective and efficient technology in an effort to optimize patient care and enhance your supply chain management. This goal enables healthcare providers to achieve their mission while optimizing expenses." It's an interesting site. Ever heard of warming an IV? They invented an IV warmer.

FMS Impact Questionnaire "For Palm OS® and PocketPC Handhelds. By completing the fibromyalgia syndrome impact questionnaire repeatedly over time, the FMS software for the handheld computer can generate a graph that allows the user to track the level and progress of the syndrome."

The Effectiveness of Interventions used in the Treatment and Management of Chronic Fatigue Syndrome/Myalgic Encephalomyelitis (ME) in Adults and Children "CRD has been funded by the Department of Health to carry out a systematic review into the effectiveness of interventions used in the treatment/management of chronic fatigue syndrome/myalgic encephalomyelitis (ME) in adults and children"

Defining and Managing Chronic Fatigue Syndrome "Under its Evidence-based Practice Program, the Agency for Healthcare Research and Quality (AHRQ) is developing scientific information for other agencies and organizations on which to base clinical guidelines, performance measures, and other quality improvement tools. Contractor institutions review all relevant scientific literature on assigned clinical care topics and produce evidence reports and technology assessments, conduct research on methodologies and the effectiveness of their implementation, and participate in technical assistance activities." This artical reviews the effectiveness of various treatment modalities for CFS. I've included the findings here just because good informative sites tend to move or go down & I don't want to loose the results.
"Findings
There are four well-recognized case definitions of CFS. The Centers for Disease Control and Prevention (CDC) is currently spearheading the development of a fifth definition. Definitions have been developed primarily by expert knowledge and consensus processes, and have evolved over time. A few comparative research studies support the concept of a condition, characterized by prolonged fatigue and impaired ability to function, which is captured by the case definitions. The superiority of one case definition over another is not well established. The validity of any definition is difficult to establish because there are no clear biologic markers for CFS and no effective treatments that are specific only to CFS have been identified.

Findings from surveys that have involved at least 100 adult participants suggest the prevalence of CFS in community populations is less than 1 percent. Prevalence rates reported in surveys conducted in primary care settings range from approximately 0.04 percent to 2.6 percent. Ability to interpret the reliability of these estimates is limited by the following factors: use of different case definitions, variability in assessment and reporting methods, and poor response rates in some studies.

Prospective natural history studies have varied findings. Precise estimates of recovery, improvement, and/or relapse are not possible because there are few natural history studies and those that are available have involved selected referral populations or have used varying case definitions and followup methods. Rates of self-reported global improvement in symptoms at 12 to 18 months range from 11 percent to 64 percent. Rates of self-reported worsening of symptoms at 12 to 18 months range from 15 percent to 20 percent. Investigators from one study estimate that the cumulative probability of recovery from CFS at 5 years is approximately 30 percent.

Thirty-eight controlled trials evaluated a heterogeneous mix of interventions and had mixed results.

Immunologic therapy: Nine placebo-controlled trials, one trial with a no-treatment control group, and one four-arm trial that assessed immunologic therapy with and without cognitive behavioral therapy were reviewed. These 11 trials involved a total of 515 adult patients. None had more than 100 participants. Followup duration ranged from 2 months to 7 months; dropout rates ranged from 2 percent to 13 percent. Immunologic therapies that were assessed included agents such as immunoglobulin, Ampligen, Acyclovir, interferon, and transfer factor.

The three randomized placebo-controlled trials that evaluated immunoglobulin showed mixed results: one found general improvement with immunoglobulin, another found worse social functioning with immunoglobulin, and another found no differences between immunoglobulin and placebo. A single randomized placebo-controlled trial found twice weekly infusions of intravenous Ampligen, an agent with immunomodulatory and antiviral effects, improved physical functioning, activity level, and cognitive functioning and did not affect depression or anxiety. This high quality double-blind trial included 92 severely debilitated patients who met the 1988 CDC definition for CFS. It had a 6-month followup period and a 9 percent dropout rate.

Participants given Ampligen had more complaints of dry skin, and participants given placebo had more complaints of insomnia. A single randomized trial found Acyclovir, an antiviral agent, increased depression, anxiety, and confusion compared to placebo. A single randomized four-arm trial found improved quality of life when transfer factor was combined with cognitive behavioral therapy (CBT) compared to either therapy alone. Placebo-controlled trials that evaluated other immunologic therapies (e.g., interferon) were inconclusive. In sum, evidence from trials involving immunologic therapies was relatively scant and insufficient to conclude whether these treatments were effective or ineffective. Ampligen, an investigational drug that is not approved by the Food and Drug Administration, given intravenously to severely debilitated patients yielded the most promising results.

Corticosteroids: Two short-term (less than 3 months) double-blind placebo-controlled randomized trials involving 125 adults showed no benefit of mineralocorticoids (fludrocortisone) in improving general and/or functional outcomes. One of these two trials was restricted to CFS patients with neurally mediated hypotension. Two short-term (less than 3 months) double-blind placebo-controlled randomized trials involving 105 adults found low-dose glucocorticoids (hydrocortisone) may improve fatigue and functioning, but at the expense of potentially dangerous suppression of adrenal function. Dropout rates in these trials ranged from 9 percent to 20 percent. In sum, evidence from these trials was scant and insufficient to conclude whether corticosteroids were effective or ineffective for CFS, but there is some evidence of harm from glucocorticoid therapy.

Antidepressants: There were five placebo-controlled trials, involving 382 participants, that evaluated effects of antidepressants in adults with CFS. Four were randomized trials. Followup duration ranged from 6 weeks to 6 months; dropout rates ranged from 10 percent to 29 percent. Two of the five studies excluded participants with depression, while three involved mixed populations, including participants with depression. One of the randomized trials was a four-arm trial that compared effects of an antidepressant with and without graded exercise therapy. Compared to placebo, antidepressants alone and antidepressants plus exercise showed no consistent patterns of improvement, though occasional improvements were found in some symptoms, such as increased vigor and less anxiety.

Behavioral interventions: There were six controlled trials involving 597 adults that evaluated some form of CBT. Five were randomized trials. One of the randomized trials was a four-arm trial that evaluated effects of CBT with and without immunological therapy (transfer factor). In the five randomized controlled trials, CBT was compared to an attention placebo, relaxation, guided support, counseling, and standard medical care. Trained therapists delivered CBT. Numbers of CBT sessions ranged from 6 to 16 over periods of 6 weeks to 8 months. Dropout rates at end of treatment periods ranged from 0 percent to 18 percent. Followup observations after completion of treatment sessions ranged from 1 month to 5 years.

Content of CBT sessions emphasized increasing activity and exercise, examination of psychosocial issues, and explanations of illness. Of note, although the investigators in the non-randomized trial labeled their intervention CBT, this intervention focused on coping skills and making lifestyle changes consistent with activity limitations imposed by CFS. The comparison group in the nonrandomized trial received no therapy. The randomized trial that compared CBT with counseling and the nonrandomized trial that compared CBT with no treatment found no differences in outcomes between groups. Randomized trials that compared CBT with standard care, relaxation, and guided support found CBT decreased fatigue and improved functional status or quality of life.

There were three randomized trials that evaluated an intervention other than formal CBT. These trials, involving 350 adults, exercise focused on increasing activity and exercise. In one, 12 weekly sessions of graded therapy delivered by an exercise physiologist was compared to flexibility and relaxation therapy. The dropout rate was 29 percent. Participants assigned to exercise therapy had greater overall improvement, decreased fatigue symptoms and increased physical functioning compared to participants given flexibility and relaxation therapy.

In the second trial, effects of graded exercise therapy delivered by a physiotherapist (8 sessions over 6 months) with and without antidepressants were evaluated. The dropout rate at the end of treatment was 29 percent. No differences between groups in outcomes were found. The third randomized trial was a four-arm trial that compared three different intensities of education aimed at encouraging graded home exercise programs with standard care. The interventions in this trial lasted for 3 to 4 months and included instructions for participants to examine predisposing and perpetuating psychosocial factors and causal explanations of illness.

These interventions were described as briefer than formal CBT and were not delivered by trained CBT therapists. The dropout rate was 14 percent. Participants assigned to any of the educational interventions had greater overall improvement, decreased fatigue symptoms and increased physical functioning compared to standard care. No differences between the three intervention groups were found. In sum, behavioral therapies that emphasize increasing activity and physical exercise generally result in decreased symptoms of fatigue and improvements in functional status and quality of life. Whether formal and comprehensive CBT delivered by experienced therapists is superior to graded exercise programs alone is not clear. Also, it is unlikely that the beneficial effects of such general treatments are specific or limited only to patients with CFS. In other words, although these therapies may help some people with CFS, their effectiveness does not help establish an underlying etiology or cause of CFS.

Other pharmacological agents or supplements: One small randomized, double-blind placebo-controlled trial involving 32 magnesium-deficient adults found intramuscular magnesium sulfate given weekly for 6 weeks improved overall wellness and energy and reduced pain and distress. One small double-blind placebo-controlled trial in 35 adults found oral nicotinamide adenine dinucleotide given daily for 4 weeks improved general well-being. Small short-term trials evaluating galanthamine, growth hormone, essential fatty acids, and liver extract provided insufficient evidence to conclude whether these therapies were or were not effective in improving symptoms or functional outcomes.

Complementary therapies: One small, placebo-controlled randomized trial of homeopathy in 64 adults was inconclusive. One small, randomized trial in 20 adults found massage therapy led to improvements in fatigue, sleep, myalgia, depression, and anxiety compared to sham transcutaneous electrical nerve stimulation. One non-randomized trial in 80 adults found osteopathic therapy improved general health compared to normal care."







From Fatigued To Fantastic Dr. Teitelbaum's site & book "Chronic Fatigue Syndrome (CFIDS) and fibromyalgia are illnesses characterized by a myriad of symptoms, which include severe long-term fatigue, poor sleep, achiness, "brain fog," increased thirst, bowel disorders, recurrent infections, and exhaustion. For those fatigue patients suffering from CFIDS and fibromyalgia, these disorders can be overwhelming -- negatively impacting every facet of their lives."

Antiviral Drugs and HHV-6 Sensitivity of HHV-6 to Antiviral Agents

Hallelujah Acres "At Hallelujah Acres we know from firsthand experience that, by following a diet and lifestyle outlined by God for humanity at the time of creation, people can preserve or regain astounding health. Instead of being sidelined by medical problems, people can learn to take advantage of the magnificent self-healing properties of the body in order to live a happy, energetic, and productive life."

In Press: Journal Of Chronic Fatigue Syndrome Volume 8, Issue 2 - 2001 Effective Treatment Of Chronic Fatigue Syndrome (CFIDS) & Fibromyalgia (FMS) - A Randomized, Double-Blind, Placebo-Controlled, Intent To Treat Study
Teitelbaum J.*1, Bird B., Greenfield R.*1, Weiss A.*1, Muenz L.*2, Gould L.*3 [* Annapolis Research Center For Effective FMS/CFIDS Therapies; 466 Forelands Rd., Annapolis, MD 21401; 1) Anne Arundel Medical Center, Annapolis, MD; 2) Gaithersburg, MD; 3) USDA, Beltsville, MD]

"Background: Hypothalamic dysfunction has been suggested in Fibromyalgia (FMS) and Chronic Fatigue Syndrome (CFS). This dysfunction may result in disordered sleep, subclinical hormonal deficiencies, and immunologic changes. Our previously published open trial showed that patients usually improve by using a protocol which treats all the above processes simultaneously. The current study examines this protocol using a randomized, double-blind design with an intent-to-treat analysis.

Methods: 72 FMS patients (38 active: 34 placebo; 69 also met CFS criteria) received all active or all placebo therapies as a unified intervention. Patients were treated, as indicated by symptoms and/or lab testing, for: (1) subclinical thyroid, gonadal, and/or adrenal insufficiency, (2) disordered sleep, (3) suspected Neurally Mediated Hypotension (NMH), (4) opportunistic infections, and (5) suspected nutritional deficiencies.

Results: At the final visit, 16 active patients were "much better," 14 "better," 2 "same," 0 "worse," and 1 "much worse" vs. 3, 9,11, 6, and 4 in the placebo group (p < .0001, Cochran-Mantel-Haenszel trend test). Significant improvement in the FMS Impact Questionnaire (FIQ) scores (decreasing from 54.8 to 33.2 vs. 51.4 to 47.7) and Analog scores (improving from 176.1 to 310.3 vs. 177.1 to 211.9) (both with p < .0001 by random effects regression), and Tender Point Index (TPI) (31.7 to 15.5 vs. 35.0 to 32.3, p < .0001 by baseline adjusted linear model) were seen. Long term follow-up (mean 1.9 years) of the active group showed continuing and increasing improvement over time, despite patients being able to discontinue most treatments.

Conclusions: Significantly greater benefits were seen in the active group than in the placebo group for all primary outcomes. Using an integrated treatment approach, effective treatment is now available for FMS/CFS."
Dr. Jacob Teitelbaum's New Study in The Journal of Chronic Fatigue Syndrome Offers New Hope to Millions of CFS and Fibromyalgia Sufferers "76% Improvement in 3 Months * 58% Less Pain in 3 Months 90% Improvement in 2 Years"
From Fatigue to Frantastic Jacob E. Teitelbaum, MD site. He has CFS and took 1 year off from medical school due to CFS. Now he has come up with a treatment protocol which he backed with research. I am forwarding his artical to some researchers for their information. He also has a computerized program on his site.

A New Approach to Fibromyalgia "The treatment of fibromyalgia is, for the most part, unsatisfactory. Maybe that's why sufferers often have a considerable degree of anxiety and depression. And while it's known that exercise has proven helpful in some studies in reducing tender-point pain, it's general effect on the poor mood in fibromyalgia subjects has been questionable. Now a Canadian study has been reported in Arthritis Care & Research that provides more conclusive results."






This is an artical I got in a Co-Cure newsletter that I believe accurately describes what actually occures in the FM brain.
Treatment of chronic fatigue [syndrome] with neurofeedback and self-hypnosis.

NeuroRehabilitation 2001;16(4):295-300
Hammond DC.
Department of Physical Medicine & Rehabilitation, University of Utah School of Medicine, Salt Lake City, UT, USA.
PMID: 11790917

A 21 year old patient reported a relatively rapid onset of serious chronic fatigue syndrome (CFS), with her worst symptoms being cognitive impairments. Congruent with research on rapid onset CFS, she had no psychiatric history and specialized testing did not suggest that somatization was likely.

Neuroimaging and EEG research has documented brain dysfunction in cases of CFS. Therefore, a quantitative EEG was done, comparing her to a normative data base. This revealed excessive left frontal theta brainwave activity in an area previously implicated in SPECT research.

Therefore, a novel treatment approach was utilized consisting of a combination of EEG neurofeedback and self-hypnosis training, both of which seemed very beneficial.

She experienced considerable improvement in fatigue, vigor, and confusion as measured pre-post with the Profile of Mood States and through collaborative interviews with both parents.

Most of the changes were maintained at 5, 7, and 9 month follow-up testing.







FM & Exercise

This is an email post I got from Chronic Fatigue Syndrome and Fibromyalgia Information Exchange

"This is Dr. Ramsay's advice on exercise for chronic ME. The source is the Medical Update, 1990, no. 1, published by IFMEA. This international federation included ME associations from Britain, Holland, Norway, Denmark, New Zealand and America. It operated for about six years and funded the first Medical Updates (now on David Axford's site).
This is the exact text:
Following an enquiry from one of our members, we asked Dr. Melvin Ramsay MA MD, President of the M.E. Association what he would advise doctors in terms of exercise for chronic M.E. sufferers. Here follows his reply. "The basic fundamental tenet of the management of a case of M.E. is REST with graduated activity well within the limitations which the disease imposes. Obviously this will vary according to the severity of the disability. For instance, I have had letters from M.E. sufferers who began to feel much better and promptly went for a swim. Of course they got a most severe relapse. Swimming imposes far too great a strain on all muscles and those which had been most involved will naturally react badly. But graduated activity well within the limitations which the disease imposes is to be recommended."'
Want to receive these informative email posts?







Southeast Pain Alternatives This pratice did help a person I met who has FM. "OUR PHYSICIANS HAVE OVER 80 YEARS OF COMBINED EXPERIENCE IN RELIEVING CHRONIC PAIN FOR PATIENTS IN THE GREATER CHARLOTTE REGION. WHILE OUR EXPERTISE IN THE FIELD OF PAIN CARE IS UNSURPASSED, WE ALSO FEEL IT IS VITAL TO WORK CLOSELY WITH YOUR PERSONAL PHYSICIAN TO DETERMINE A PROPER PAIN TREATMENT PROGRAM. SOUTHEAST PAINCARE OFFERS INNOVATIVE APPROACHES TO PAIN MANAGEMENT."

The Goldberg Clinic Paul A. Goldberg, B.A., B.S., M.P.H., D.C., Dr. N.H. Certified Natural Hygiene Practitioner & Professor of Clinical Nutrition, Gastroenterology and Rheumatology

"The clinic utilizes a Biological/Hygienic approach consisting of the following:
Careful analysis to identify the causes of the clients disease with recognition that each person differs greatly from the next.

Application of both general and specific Biological, Hygienic and Clinical Epidemiological Methods to effect improvement in the client's condition always focusing on causal factors, not the mere treatment of symptoms.

Instructing the client how to maintain their health in the future on their own, without ongoing dependency on health care professionals of any type.







CFS & FM Good Doctor List List of doctors (includes names, addresses & websites) who specializes in treating CFIDS in the USA and many other countries.

Pharmacists' Network Exchange "PNE pharmacists dispense knowledge with intention to eliminate, minimize or coordinate use of pharmaceutical medications integrating nutritional supplements, diet and lifestyle modification."

Ten Keys to Coping and Recovery CFIDS/FM Self Help Site has a series of biweekly articles adapted from their course text, The CFIDS/Fibromyalgia Toolkit. Site also offers online course (you have to pay for the course) on managing CFIDS symptoms. From the one artical I read about the outline of the couse content it sounds like common sense living.

Suggestions from Marla on coping with FM & CFS She has FM & CFS and shares what she found has helped her which is practical advice anyone can easily do.

WebMD Artical "These Brain Waves May Tame Fibromyalgia Electrotherapy Looks Promising -- but Are Results Too Good to Be True?"

Siber Imaging Myra Preston, PhD found that CFIDS patients have an abnormal increase in slow wave activity consistent with a metabolic encephalopathy. This is seen when they are awake & engaged in cognitive activities. The CFIDS brain is functioning as if it is asleep eventhough the person is awake.

Advanced brain.com Site has various programs you can ordered to help your brain figure out how to compensate for it's deficencies.

Chronic Fatigue Syndrome Institue Site by Dr. Jay A. Goldstein. He has done extensive research on CFS and has developed a unique approach to treating CFS. "The goal of therapy is to induce the brain to secrete the appropriate amounts of chemicals neurotransmitters so that information to be processed will be selected appropriately. He has devised a decision tree which helps me to rapidly discover in most cases which brain chemicals and receptors might be dysregulated."

What your doctor may NOT tell you about fibromyalgia Site has many links on research on guaifenesin which apparently many FM sufferers are finding helpful in treating FM symptoms.

NOVEL TREATMENT REDUCES FM SYMPTOMS Controlling food sensitivies has wide impact by Joyce Waterhouse, PhD. "A controlled study presented at the American Academy for the Advancement of Science in February 1996 showed 30-50% reductions in a number of fibromyalgia symptoms (such as pain, fatigue, stiffness, depression and irritable bowel syndrome) after six months of avoiding substances to which a person was sensitive." Unfortunately I lost the site.

Guai Support Group Site includes a lot of information on The Guaifenesin Protocol treatment for FM & CFS.

Chronic Illness Support and Research Association (CISRA): Synergy Health Newsletter Lots of links to articals in their newsletter. Includes some informative articals.



Chronicneurotoxins.com VCS visual contrast sensitivity test center. This is the site I received an email on regarding a possible breakthrough in the treatment of FM by Dr. Ritchie Shoemaker.

This is an email I received from a visitor to my site. I checked out the site and emailed Dr. Shoemaker to get more information. This is the email I received:

I have suffered for 10 years now. Severe fibromyalgia (diagnosed) with paralyzing (literally) pain, loss of all functions including but not limited to: memory, concentration, bladder, bowels, emotions, sleep, etc etc. I've been seen by every type of specialist you can imagine. All had some diagnosis with regards to my "loss". Neurologists had names for the loss of use of my limbs and ability to read or add 2+2. Psychiatrists said my depression was not treatable by them. I even submitted to experimental drugs. Pulmonologists put me on breathing machines at night, and drugs. Cardiologists wondered why I could still stand when my heart rate dropped to where all monitors would alarm. My rheumatologist put me on all the "mean" pain medicines. I had no side effects because these so-called habit forming pain medicines only spoke to my pain, not my head. I never got addicted to anything. I just had to keep switching medicines because, after awhile, they all stopped working. I was dying, really. Now I am no longer taking pain medicine, sleep medicine, antidepressants, anti-anxiety meds, physical therapy, or special vitamins. I am taking thryoid replacement, and cardiac medicine to increase my blood pressure. And then I am also taking cholestyramine.
Read farther emails on this site


Dr. Ritchie Shoemaker's artical on FM


K-9 for kids They provide highly trained service and companion dogs for children and adolescents with illness and disabilities in Boston. Services include comprehensive evaluations, professional counseling, selection, placement and follow-up support as needed. I'm a firm believer that pets are therapuetic physically and emotionally.

Unique Help for Pain Management "Toaster is a coated toy Mexican Hairless that has been trained as a service dog to help relieve her owner's muscle pain and stress, resulting from fibromyalgia. Using her own body heat, Toaster wraps herself around Nancy Gordon's neck providing warmth and love -- acting as a living hot neck wrap! And when Nancy is feeling blue, Toaster breaks into song (at least that's what Nancy calls it) to cheer her up and to let her know that she is there, full of love for her owner.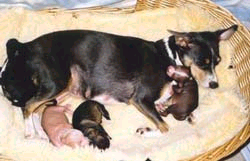 Mexican Hairless dogs are very rare and, for this reason, Nancy Gordon decided to breed Toaster. She wanted to make puppies available to others in chronic pain who are in need of a loving dog that can provide the warmth and healing they need."

Stormy's, Chopper's Sunni's Crash's and Harley's Webpage Pet therapy can be one of the most effective therapies for depression, anxiety and pain. These dogs are sooo cute.
CopperStar Tollers Laura Smith's other page on her dogs.

David S. Bell, M.D., on Medications for Chronic Fatigue Syndrome and Chronic Pain Control Self regulating certain medications to adjust and treat the varying day to day symptoms.

A4M - World Health Network - The American Academy of Anti-Aging Medicine "the site has a link to help you find a practitioner and lots of info and explaination on this area of specialty. I am a nurse practitioner and work in this area....I do this all the time and found your site while I was researching something for a class I am teaching on hormones.....have fun...you can insert anti aging medicine in a search engine and come up with lots of info also....angelwomn" I got this email about this site. It has some interesting concepts.
Longevity News Neurology Links to short news briefs on brain research such as "Brain Can Form New Memory Nerves" and "Oxidative Stress Linked to Neurodegeneration". Both of these may have some impact on treating the cognitive problems associated with FM & CFS (as well as many other medical conditions).

Hunter-Hopkins Center P.A "80% of sufferers feel better and can take control of their lives again by following the Stepwise Approach to CFS and FM. The Stepwise Approach uses traditional medical therapy complemented by proven wellness techniques to restore well-being and help the sufferer improve." They have the Stepwise Approach outlined on their site.

Painfree International Charitable Foundation Site "provides information about two innovative but highly effective treatments for nerve-related muscle pain – ATOIMS® "atoyms" (Automated Twitch Obtaining Intramuscular Stimulation) and ETOIMS® "etoyms" (Electrical Twitch-Obtaining Intramuscular Stimulation). This site was developed by and is maintained by patients who have suffered from nerve related chronic muscle pain but who have been successfully diagnosed and treated with ATOIMS and ETOIMS by Jennifer Chu, M.D. at the Hospital of the University of Pennsylvania's Department of Rehabilitation Medicine."

The email sent to me by Vince.
Dear Linda,
I am a former fibro patient...almost recovered...was pretty much bedridden....I still get treatments but doing great. I now work for the Painfree-International Charitable Foundation - which supports a new treatment for FMS called ATOIMS and ETOIMS -- we are non-profit started by patients of Dr. Jennifer Chu who pioneered the ATOIMS treatments. our website is http://www.painfree-international.org

Sincerely - Vince

The Alternative Research Foundation Site contains a lot of information, tidbits and miscellaneous stories and humor. I don't know how serious or accurate this site is but decided to go ahead and add it since it looked like it's a big site.

McALISTERS Deli They have great spuds which really do have a therapuetic effect on the body that may be lacking some important nutrients. It really helps a body feel better.

Fibromyalgia & Migraines-How I found Relief Site created by Mandi who is 19 years old and suffered from horrible migraines and fibromyalgia for years. Unfortunately her site is gone due to webhost server changes. Fortunately I do have her diet. She shares about a diet which has helped her. She is also involved in selling products for a multilevel marketing company.




Optimal Wellness Center Dr. Joseph Mercola shares his diet to help improve health. He is trained in both traditional and natural medicine and have been practicing natural medicine actively since 1990.

Oxford Glycobiology Institute Research & related info on glycobiology.

GlycoInformation.com "Glyconutrients are a new and more specialized type of nutraceutical. They support the process our individual tissue cells use to recognize, and communicate with, each other. The 1999 Nobel Prize for Medicine was awarded to DR. GÜNTER BLOBEL for his work in this NEW field of Science-Medicine called Glycobiology.
Unlike other nutrition supplements, glyconutrients provide the saccharides recently identified as essential for good human health."
The clinical relevance of glycobiology "Congenital disorders of glycosylation: The CDGs (previously known as carbohydrate-deficient glycoprotein syndromes) are a group of congenital diseases, often with severe multisystemic defects, characterized by defective N-glycosylation."
MANNATECH is the Research and Development that has world wide patents on plant Saccharides
Jane Thompson
It's a multilevel marketing company
Jane's new web site
Jane's site on clyconutrients multilevel marketing She shared "I personally can tell you the Science and research done over the 20 years on the Glycobiology Charbohydrate issue is what medical Science now calls " The Last Frontier in Medicine" thousands of journals, and Medical papers have been written in the last 8 years, in 1999 the Medical text book that all Medical students have to study to become Dr's, (Harpers Biochemistry text, the 25th edition) by DR Robert k, Murray,,,, has now got 20 pages on Glycoprotiens, stating that all functions of the body requires these 8 Essential Saccharides, so the new graduates since 1999 from medical schools will be informed."
Integrativehealth.net
Glycoscience.com
Dr-hipskind.com This website is about the site creator's observations, opinions and experience with Vitamins, Minerals, Antioxidants and Glyconutrients.
Society for Glycobiology "The objectives of the SOCIETY FOR GLYCOBIOLOGY shall be to promote knowledge, encourage research, and to stimulate personal communications, in an inter-disciplinary sense, using as a common meeting ground an interest in the complex carbohydrates of glycoproteins, glycolipids, glycosaminoglycans, and the biological systems in which they are found"
Glycobiology Research and Training Center "The primary goal of the GRTC is to facilitate and enhance Glycobiology research and training by UCSD faculty with the minimum possible paperwork and bureaucracy."
The CDG Family Network Foundation "is a non-profit 501 (c)(3) organization made up of parents and physicians seeking information and support for a Carbohydrate-deficient Glycoprotein Syndrome which is also now referred to as Congenital Disorders of Glycosylation."




International Molecular Diagnostics (IMD) Site includes research on CFS and autoimmune disease which I think CFS & FM are. It fits the description in the first paragraph of the immune disease link. I received an email informing me of this site.
"Hello, my name is Rose. I have recently heard some good news I want to pass on to Jen and anyone who suffers from fibro,chronic fatigue,lupus,etc.

I had been learning how they are now using antibiotics -doxycycline and minocycline on these illnesses and it is working. Just yesterday I met someone who's wife has fibro and is improving using minocycline and her friend has lupus and is using the same thing and it is working. It is a slow recovery, but they are getting better.

There is a research center out in california that is treating these diseases including MS, Lou Gerigs disease and much more with doxycyline and is also seeing results. The doctor of this center called International Molecular research treated his wife and daughter as well as himself and they are doing well.

It is the family of tetrycycline drugs that are working, but they don't use tetrycycline itself. It appears these diseases are being caused by a bacteria called Mycoplasm."

Remedyfind.com I received an email from the webmaster of this site and thought this would be a useful site in helping to evaluated treatments you may be considering.

Hi,
I was looking at your FMS site and found it to be very interesting and personal. I thought you might like to know about a FMS treatment rating site that I've just started called Remedyfind. Remedyfind is a noncommercial, nonsponsored, patient owned site that allows individuals and healthcare professionals to rate the effectiveness of the treatments they have used for specific illnesses. I've had Chronic Fatigue Syndrome since 1982, so the site is born out of my frustrations at finding unbiased information on which health treatments work, and which don't. A year ago the idea came to me of creating a web site that could let patients report on which health treatments work, and which don't, for CFS/CFIDS/M.E.. As I started to input the treatments and design the site I realized that what I was doing for CFS could work just as well for most other chronic health conditions, so that's why the site now includes 10 health conditions altogether, incl. Arthritis, Depression, Fibromyalgia etc.. The site has been up since the beginning of the year and seems to be building some momentum some 400 people have become registered members, and more than 600 ratings have been submitted.

Many thanks,
Brett Hodges





This is an email that came across on a Co-Cure CFS newsletter. I decided to add it here in case anyone may find this helpful.

I have fibromyalgia. I probably wouldn't meet a research definition because my pain is mostly on the left side of my body and only on my right when it is at its worst. But I have been completely pain free about 80% of the time by doing the things I discuss below. I just wanted to share my story so that it might benefit others. I'm very physical (I listen to my body) and analytical, and I think this has helped me figure out what works for me. I look at my life as a constant single-subject experiment.

1st - I figured out that I was tensing up my body in a strange way that was causing a lot of my pain. It took a long time to get out of the cycle where the pain caused me to tense up and the tensing up caused me pain. But through a lot of work put towards learning to relax, I got a lot better. I still tense up when I do a few things, like play the cello and cut stained glass. Just 15 minutes playing the cello can make my muscles uncomfortable and it can be difficult for me to sleep for a couple of weeks before it goes away again. I know I'm not the first to understand this part about FMS, but I've never read anything about my second revelation.

2nd - As I said above, discovery number 1 helped out a lot, but discovery number 2 has returned my life back to near normal. When I moved to Korea, I was amazed because after a week or so, I felt better than I had in years. Then when my husband got to Korea a month later and I started hanging out with him, I started to feel bad again, almost immediately. Of course a lot of things changed in my life when I moved to Korea, so it took me a while to narrow down what had made the difference that week. It was NOT DRINKING CHLORINATED WATER. When I lived on the Korean economy, I was drinking bottled water all of the time. I wasn't even showering in chlorinated water. When my husband showed up, I spent a lot of time on the USAF base where I drank very chlorinated water. I now drink water that has been filtered by Waterpik's best tap filter. Cheaper filters don't work well enough. And I feel great most of the time. I've been reluctant to find out if chlorine in swimming pools makes a big difference. I just avoid them because I think they might matter and I don't want to go there. I'm afraid that people who use highly-chlorinated hot tubs to relax might be inadvertently making themselves feel worse. Hopefully, the bromine used in pools doesn't matter, but I think it's worth looking into.

3rd - being on Orthonovum 1/35 birth control pills seems to help.

4th - If I drink milk, eat cottage cheese or eat a lot of cheese or ice cream, my tendons get really sore (inflamed). I can eat yogurt. I learned this through a single-subject experiment type situation similar to the one in Korea. This might be just my own strange thing and not related to the FMS.

I hope you can share this information with other people who have fibromyalgia and researchers, so they can find out if it helps other people.

Thanks,
Jill R. Zablocki
Co-Cure



Tools for Wellness A Site of interest to FM folks